About Us
Sharing delicious coffee while making a real, positive impact on coffee producers is what we do. Want to learn the full Union Hand-Roasted Coffee story? Delve into our world, discover why we started and how we've become who we are today...
1991
HOW IT STARTED
Jeremy and Steven didn't start their careers in the coffee industry, in fact, quite the opposite. The journey started when Jeremy, an optician, and Steven, an immunologist, took up an opportunity for a career sabbatical in the buzzing area of Northern California in the early 90s. Immersing themselves in the developing coffee scene in the region, Jeremy and Steven discovered their love for the bold brews and knew they wanted to bring a taste of West Coast California back with them to the UK. There was a lot more to learn and Jeremy and Steven dedicated all their spare time to meticulously further researching coffee, the industry and business. Taking a leap of faith, they left their careers, moved back to the UK and set up in a workshop in Steven's parent's garden with a small coffee roaster, and dare we say it, big dreams. Here, "Torz & Macatonia Gourmet Coffee Roasters" was founded, which set the standard for a new wave of Speciality coffee in the UK, later uniting with The Seattle Coffee Company. How does a small, garden workshop roastery have such an impact on the industry? Well, a delicious and distinctive house espresso is a good start…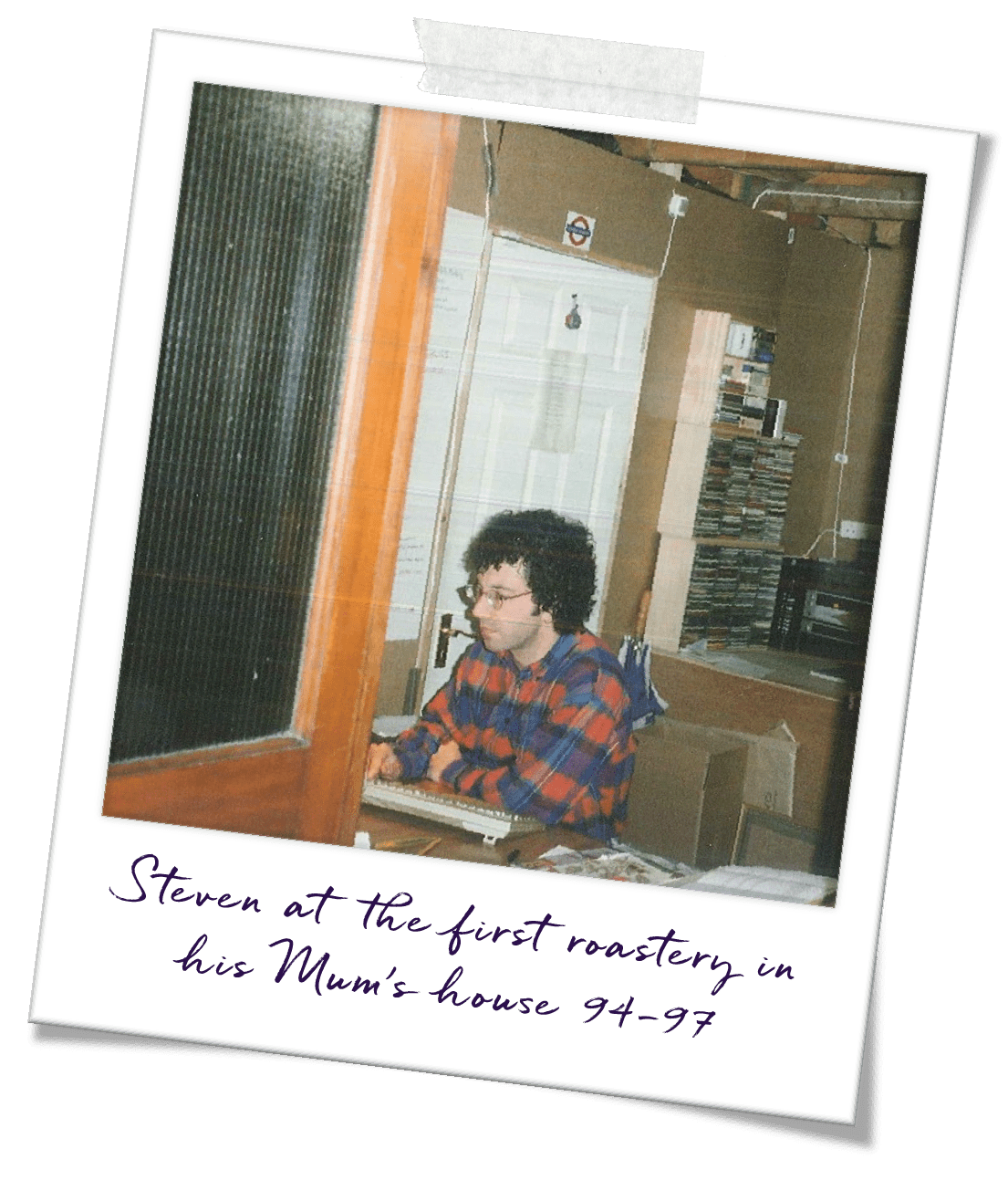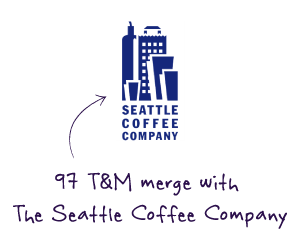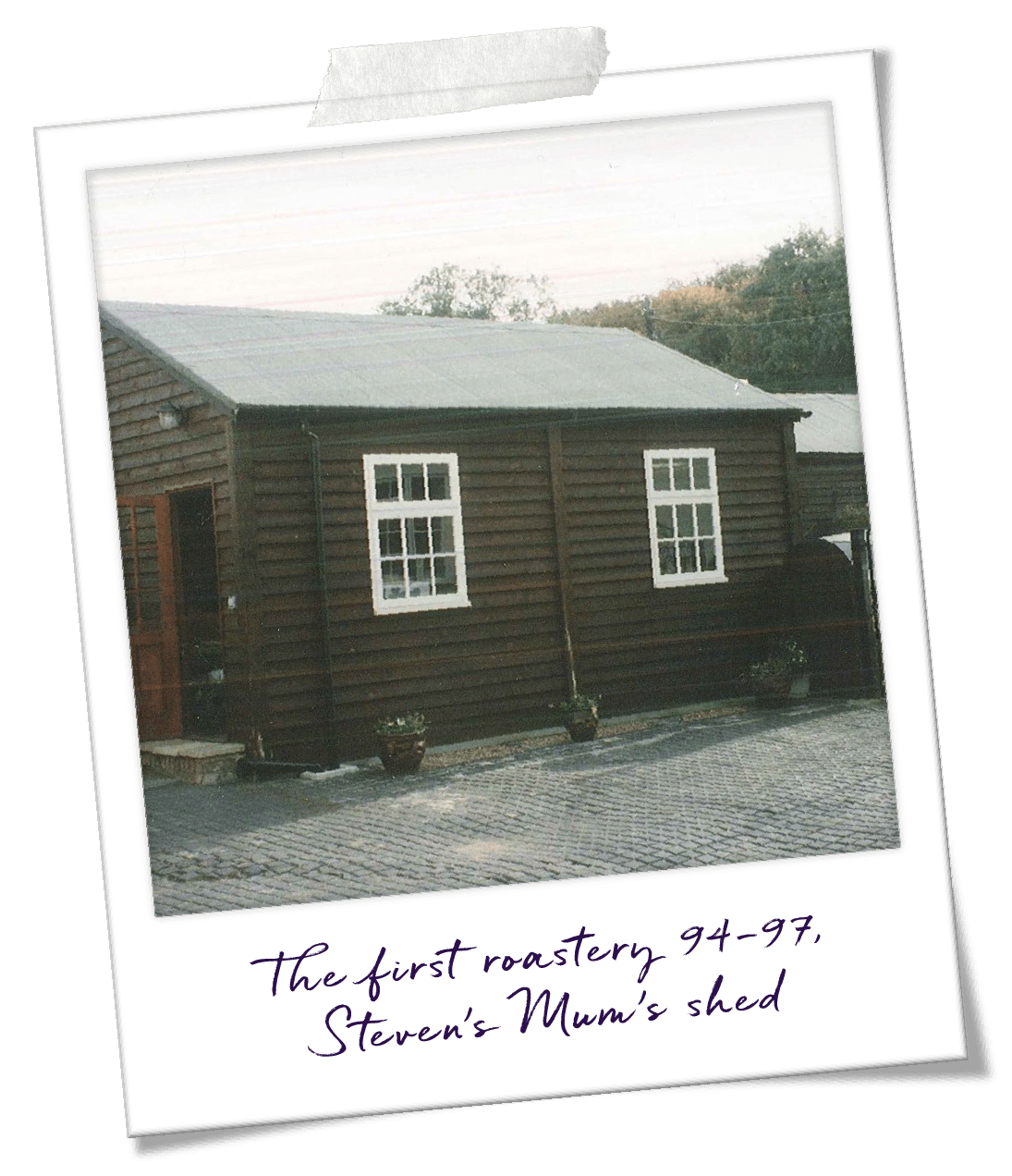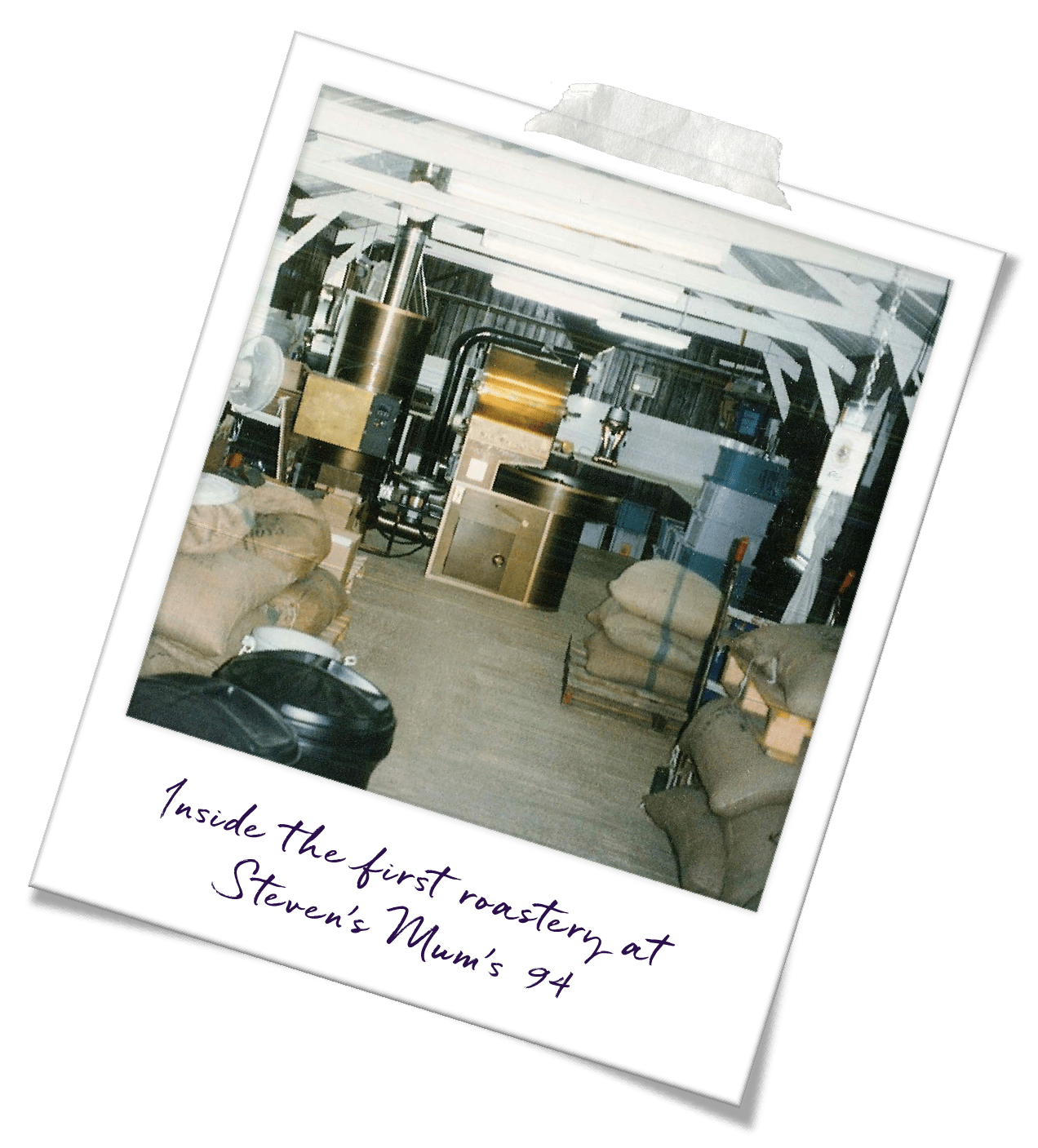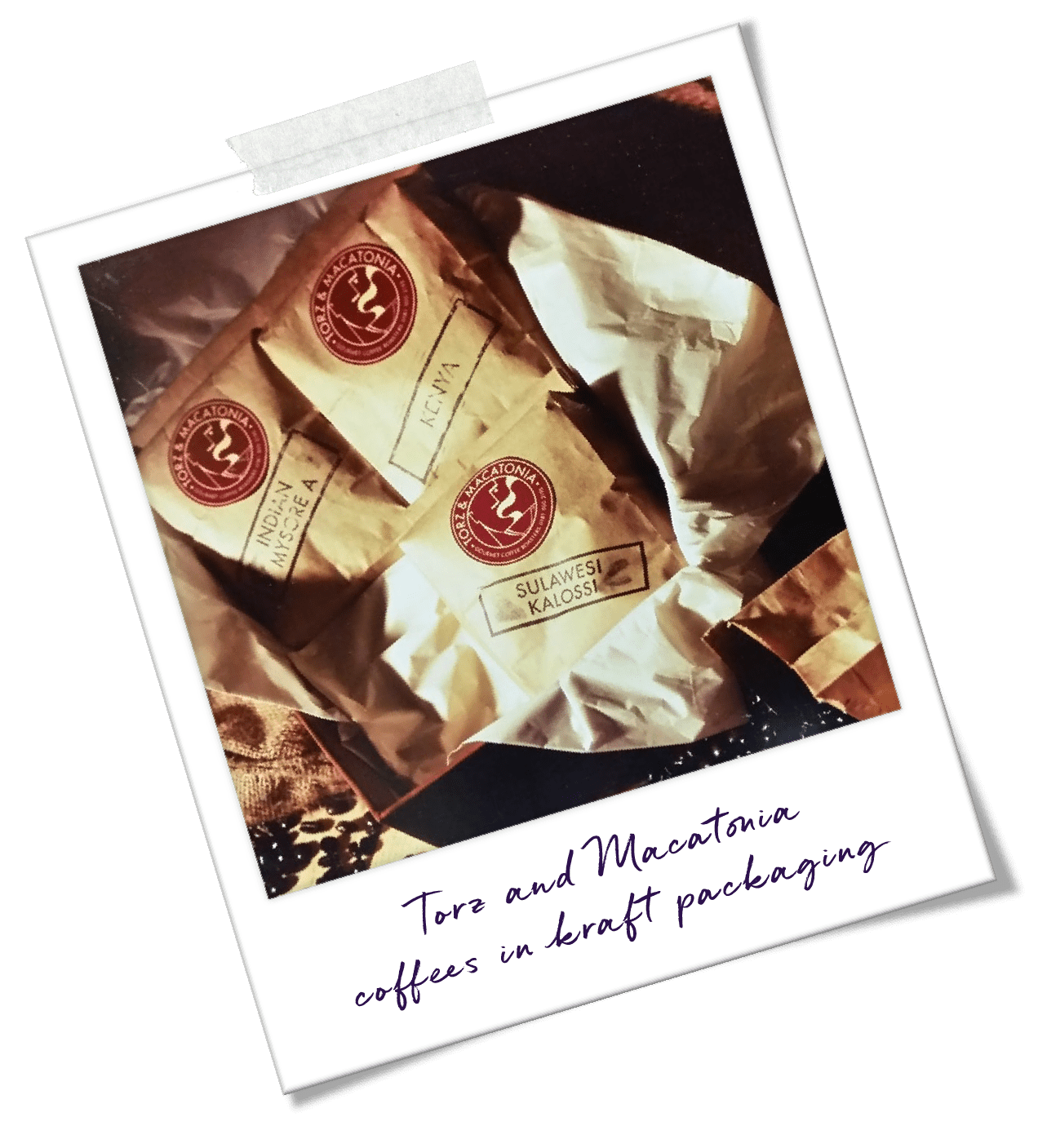 1994

Inception of Revelation

Revelation, our bold signature espresso ‒ any Union fan will know it. What you might not be privy to is the fact that this popular blend dates right back to 1994, a creation by Jeremy and Steven developed in Steven's mother's kitchen on a £20 used, home espresso machine. Wanting to bring that depth and body of the dark-roasted West Coast coffees but with a sweetness and vibrancy not present in the coffees offered in the UK, they found the perfect components and roast to create Torz & Macatonia Espresso. This blend has been subtly refined over the years to create the much-loved Revelation. Today, it still has the same distinctive, multi-layered flavours and still uses coffee grown in Guatemala and Costa Rica, the original recipe. It's stood the test of time and remains as one of our bestsellers (quite rightly!).
2000

THE UNION MISSION

Deciding to delve further into understanding the coffee value chain, Jeremy and Steven visited Guatemala in Central America in 2000. What they witnessed changed their direction within coffee forever. Farms abandoned, houses dilapidated, local economies ruined; these were some of the devastating effects of the commodity coffee market and its instability on these farming communities. Then and there, they knew that this had to change. Together, they decided to start a new roastery with a mission at its core to work together with farmers who were committed to producing high-quality coffee, and pay a higher price in order to help create sustainable livelihoods. Union Coffee Roasters (later renamed Union Hand-Roasted Coffee) was born ‒ they just had to find the perfect spot to kickstart the journey...
2001

The Roastery Comes Alive

In 2001, hidden in the depths of East London, Jeremy and Steven found the space to bring Union to life. It was the ideal hub to create freshly-roasted coffee to order and set the Union mission in motion… and we're still here today! After 20 years, we're old-timers in the area and together with our neighbours, Cody Dock, a creative, community hub, we work with local residents to maintain the environment and educate them about coffee.

Creating great coffees meant finding the perfect craft roasters, and not using automated roasting. This coffee was to taste like no other so hand-roasting small batches for precision and quality was the only way. First came the San Franciscan in August 2001, a newer version of the trusty small-batch roaster from the early days roasting. Jeremy and Steven were well-versed in using it and had confidence in the quality they could produce. Then came the first Probat in October 2001, a larger drum roaster shipped in from Memphis, USA. It has stood the test of time and helped put Union's high-quality and expertly roasted coffee on the map. In fact, it was such a success, our second Probat was introduced to the roastery in 2014.
2003

Rwanda
The start of something special
In 2003, Jeremy and Steven visited Abahuzamugambi Ba Kawa Co-operative (which means people working together for coffee) for the first time. We call them Maraba, after the original name of the area in Rwanda (which is now called Huye). A country still recovering from a devastating genocide in the early 1990s, there was little to no infrastructure for growing high-quality coffee for international trade, in spite of the perfect landscape and climate for it. Teaming up with USAID and Comic Relief, Union agreed to buy 3000 kilograms of coffee from Maraba despite not yet having a customer. It was Sainsbury's who stepped in and agreed to put Maraba on the shelves (fast forward to today and you'll find a selection of brightly coloured Union bags!). For Maraba, this was the start of not only our longstanding relationship but a pivotal moment for Rwanda speciality coffee farmers. Alongside trading with Maraba, one of the first Union projects tackled the long, laborious journeys between farm and co-operative. We helped to promote the "cargo bikes" designed by renowned mountain bike designer Tom Ritchey, which became instrumental in easily transporting coffee cherries and ensuring they reached the processing stage fresher. This support and care have only continued and grown between Maraba and Union, resulting in delicious coffees and ground-breaking developments for the co-operative and livelihoods of the producers in the area.
There's a lot more to the Maraba story, click here to read…
2004

Colombia Cupping Lab

You know what they say, communication is key, and our partnerships with producer partners have been open and honest from the get-go. In 2004, Jeremy and Steven travelled to Huila, Colombia, to visit Asprotimana coffee producers for the first time to discover the beauty of Colombia coffee. Following a flowing, open discussion with the members about everything from what buyers expect to what producers need, they agreed on how to best work together. They knew that empowering, educating and helping local communities to better understand the coffee industry was a priority. So, with funding from Union, Asprotimana built their first cupping lab for checking quality on-site, giving them the means to further develop and grow.

Today, Asprotimana continues to excite and inspire with not only outstanding microlots but with huge steps made to promote both women producers and the younger farming generation.
2011

Union Direct Trade

In 2011, we took another step to strengthen our impact through our ethical sourcing. Making a significant investment for a company our size, we hired a dedicated Sustainable Sourcing Manager, Pascale Schuit, to bring her academic and in the field knowledge of Development Economics to further strengthen the impact we were making. Pascale has focussed on implementing and monitoring our Union Code of Conduct for ethical coffee sourcing and developing our social impact strategy by ensuring our Union principles of quality of business, quality of life are achieved through our quality of coffee.
2014

Yayu Wild Forest Project Begins

Looking back at 2014 and our first steps in the Yayu Biosphere Reservation in Ethiopia, we didn't know just how much it'd become a fabric in the Union story. This magnificent forest area is home to some of the last wild fragments of Arabica coffee trees in the world and is essential to coffee preservation.

Coffee farming in Yayu wasn't always a viable option for locals due to the low and volatile prices of coffee causing farmers to turn to alternative agriculture which required deforestation to create farm space. In 2014, we teamed up with Royal Botanic Gardens, Kew, The Darwin Initiative, and local coffee-growing communities to work on projects focussing on increasing coffee quality to help preserve the wild Arabica forests in the area. Since then, our study has demonstrated that growing high-quality coffee can increase farmer income by 30% compared to non-specialty coffee, and this correlates with a reduction in the level of deforestation.

Alongside the forest biodiversity project, we've also worked closely with the co-operatives, Wutete, Achibo, Geri, Getschi and Yayu Zuria, on projects to fund and sustain freshwater in the local area. Since 2016, together with The Allegra Foundation's initiative Project Waterfall, we've co-funded and assisted the planning and installation of solar water pumps in the Wutete village, which now provides clean drinking water to 8000 villagers, including 2000 school children. A huge "Thank you!" to everyone who purchased Yayu Wild Forest coffee from the supermarkets which contributed to the water fund, and to our partners, Waitrose, for rolling out this delicious coffee nationwide for everybody to discover!

Read more about our Yayu project here.
2015

Time to Subscribe!

Who doesn't love the sound of an exciting parcel dropping through the letterbox? In 2015, we took delivering freshly-roasted coffee to the next level and launched our CoffeeClub subscription service . Coffee lovers could now explore a range of our bestselling blends, single origins and limited edition microlots, with even more ease and convenience. Our letterbox-friendly boxes were born out of this exciting development (but we won't go into how many hours went into perfecting these!).

To top off an exciting year, we won Best Artisan Coffee Roaster (which we won another three years under its new title Best Specialty Coffee Roaster – Europe!) and Most Ethical Roaster at the Allegra European Coffee Awards, a highly-regarded acknowledgement of the work we do within the industry. What a year, eh?
2016

Real Fresh Coffee hits the shelves

After 20 years of working in coffee with plentiful expertise in sourcing, roasting and brewing speciality coffee, Jeremy and Steven launched their 2016 book, Real Fresh Coffee. It delved into everything speciality coffee: from sourcing at origin right through to brewing the perfect cup at home, providing a detailed look into one of the most popular beverages in the world. Forever learning and sharing is one of our values at Union so what an exciting step this was!

We also launched the Bee Project in 2016 ‒ an initiative developed at Esquipulas co-operative, Guatemala, our longstanding partners since 2009. The project focussed on diversifying women farmer's livelihoods by providing an alternative source of income following the devastating effect of the coffee leaf fungus epidemic in 2015 which destroyed so many coffee trees. Beekeeping for honey production has continued to not only successfully diversify income but also help reduce poverty, provide more resilience within a volatile economic system and nurture women's empowerment.
2017

A Royal Reward

In 2017, Jeremy and Steven received the most regal of invites to Buckingham Palace to be presented the Queen's Award for Industry: Sustainable Development by HRH Queen Elizabeth II. The award was the result of 15 years of focus and drive to create a better way to source high-quality coffee, a proud testimony to the success of Union Direct Trade.

By 2017, there were 70 Unionistas on the team making the cogs turn and keeping the Union mission of sharing the joys of speciality coffee alive and thriving.
2018

Reaching Scotland and the skies!

We took scaling speciality coffee (even at a high altitude!) to the next step when we partnered with British Airways in 2018. Serving our small batch-roasted speciality coffee at 35,000 ft. with a globally-recognised brand was a huge sign of recognition and credibility. It was also an indication of an increase in demand for sustainable speciality coffee which has always been part of the Union vision. So, if you ever find yourself in the business lounge or flying business class ‒ we've heard the coffee is pretty tasty...

In 2018, Brew Lab coffee shop in Edinburgh became part of the Union family. Together we formed Union Brew Lab, a space to share the joys of speciality coffee from delicious flat whites and refillable coffee tins to masterclasses and events. Union Brew Lab shares our commitment to our craft and our drive to constantly improve and innovate. It's a pretty perfect union if you ask us!
2019

What a year for water

In 2019, we helped drive and co-fund two significant water projects at our producer partners in Brazil and Peru.

In Brazil, together with Fazenda Ambiental Fortaleza (FAF) coffee farm, we started planning and co-funding the installation of water filtration systems to manage greywater and blackwater for a number of coffee farms in the Bobolink network (neighbouring farms to FAF). To date, four Bobolink farms have now been fitted successfully with more to be completed. With sustainability and establishing clean water systems at the core of Bobolink farmer's philosophy, this is a considerable achievement.

It doesn't stop there! Co-funded with Gather & Gather, we supported a project to construct wastewater systems for 40 smallholder farmers in Cajamarca, Peru. By 2020, this project was completed with 40 farmers successfully finalising the construction and installation, with farmers reporting that the filtration is working well. Water filtration means improved health benefits and cleaner water for the farmers and the community, as well as benefiting the environment.

In 2019, the Specialty Coffee Association (SCA) recognised the important work we have been doing in Yayu, Ethiopia and awarded us with the Sustainability Award 2019.
2020

Coffee keeps us going

As with the rest of the world, 2020 was a difficult year due to COVID-19 but we sure did learn a lot. Our amazing team pulled together and powered through, keeping our freshly-roasted coffee on supermarket shelves and in your cupboards at home.

Throughout 2020, we donated enough coffee to make over 100,000 cups to charities and key workers, mainly to the NHS, Great Ormond Street Hospital and through FareShare.

Naturally, 2020 was a good year for reflection and as a mission-driven business, we took the time to calculate the impact we make. We proudly published our official Annual Impact Report 2020 which highlighted the social, economic and environmental developments that we've achieved, proving that business truly can be a force for good.

Check out our full Annual Impact Report 2020 here.
2021

Happy 20 years to us!

Remember the Yayu project (it's back up the timeline in 2014!)? Well, in 2021, over six years of working closely with coffee-growing communities culminated in a publication of a peer-reviewed study, co-authored by Pascale Schuit, our Sustainable Sourcing Manager, along with Dr Aaron Davis (Head Boss of Coffee, at Royal Botanic Gardens, Kew) and Union founders Jeremy and Steven. Driving real change comes from learning and sharing, and this collection of information and essential findings was a huge step for Union that we're incredibly proud of. You can find the full article here.

Finally, we're not sure where the time goes but 2021 also marks 20 years since Union was founded. Union was born with a purpose to challenge the norms of the coffee industry, strive for high-quality speciality coffee and put the focus on producers and creating more sustainable livelihoods. Two decades later and this continues to drive and inspire what we do at Union every day. 20 years is a huge celebration but we're far from finished ‒ we'll continue working towards our vision of creating more sustainable livelihoods for coffee producers through high-quality coffee and secure partnerships. So, keep watching this space for big steps and, of course, delicious coffee.